Status

Construction scheme (future)

Where

To complete the dualling of the A26 between Ballymoney and Coleraine, which is part of the principal route between the north coast and Belfast.

Total Length

6.7 km / 4.2 miles

Dates

Scheme proposed - July 2006

Scheme given go-ahead - April 2008

Construction due by 2018 (as of 2008)

Cost

£35m as of 2006

See below.

Aerial view (Google Maps)

A26 Wattstown dual-carriageway (Windyhall to Lodge Road)
The A26 is the principal north-south route east of Lough Neagh, connecting the north coast at Coleraine south via Ballymoney, Ballymena, Antrim and the M1 at Moira. The northernmost part of the route, between Ballymoney and Coleraine carried an average of between 14,000 and 16,000 vehicles per day in 2006. This proposal would see the 8.5km (5.3 mile) stretch between Windyhall roundabout Coleraine and Portrush Road roundabout Ballymoney converted to dual-carriageway. A 1.8km (1.1 mile) stretch at Seacon North, half way between the two towns is already dual-carriageway so the upgrade would only involve 6.7km (4.2 miles) of the route.
The consultation document "Expanding the Strategic Road Improvment Programme" released in July 2006 contained a number of proposed schemes to take advantage of additional funding which, it is hoped, will be available "towards the end of the plan period" (ie before 2015). The document "Investment Delivery Plan for Roads", published in April 2008, gave the official go-ahead to the scheme, which was then timetabled for construction by 2018.

The map below shows the current road (as of Jan 2008) with the single-carriageway sections affected by the proposed update highlighted in green.
Progress
8 Jan 2008: Information is that this scheme may move into the "preparation pool" in the near future. If this happens, it would mean that it had been approved for construction and that route selection and design could proceed. Commencement of work on the ground would depend on funds being made available and the scheme passing the relevant statutory processes.
Photos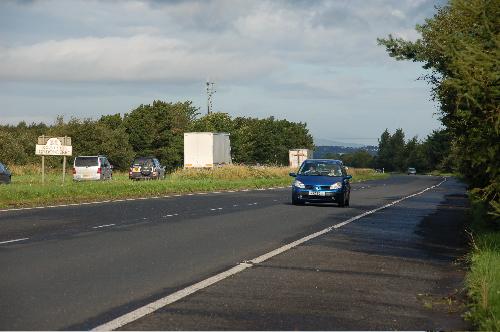 The Seacon North stretch of dual-carriageway here seen in August 2006, looking towards Coleraine. The sign marks the Londonderry/Antrim county boundary. [Photo by Aubrey Dale]