Status

Construction scheme (future)

Where

To upgrade stretches of the A26 from the M1 at Moira north to Nutt's Corner, near Belfast International Airport to 2+1 standard

Total Length

? km / ? miles out of a total of 18.7km / 11.6 miles

Dates

Scheme first proposed - July 2006

Scheme given go-ahead - April 2008
Construction due by 2018 (as of 2008)

Cost

£15m as of 2006

See below

General area map - Google Maps
This part of the A26 forms a strategic route connecting the M1 (at Moira) to the M2 (at Antrim). Half way along the route is Nutt's Corner, a five-armed roundabout famous for its open air market, and also the main access point to Belfast International Airport. Although the road is only one lane in each direction, it is built to a high standard with long sections of hard shoulder, sweeping curves and bypasses round Crumlin and Glenavy, the two towns on the route. However it suffers from high traffic flows (12,000 vehicles per day in 2005) which, coupled with a large number of slow moving agricultural and industrial vehicles, leads to the development of convoys of vehicles travelling more slowly than would otherwise be possible.
This scheme will see sections of this route upgraded to 2+1 standard, which will essentially provide overtaking opportunities in alternating directions. The number of 2+1 sections that will be provided is unclear. The screenshot from Google Earth below shows the section of the A26 being affected by this proposal. This map also illustrates why the A26 is so useful - it is an attractive alternative to travelling through Belfast on the Westlink to get to counties Antrim and Londonderry from the south. Improving journey times on the A26 will therefore lead to more traffic being able to use the route, and hence less congestion in Belfast.
Google Earth screenshot showing the section of the A26 between Nutt's Corner (top) and the M1 at Moira (bottom). The orange lines are motorways. The pale grey patch to the left of Nutt's Corner is Belfast International Airport.
The scheme was first proposed in the document "Expanding the Strategic Road Improvement Programme" in July 2006, and subsequently given approval in the document "Investment Delivery Plan for Roads" published in April 2008.
Photos
The A26 in its current form as it passes the village of Glenavy.
Seen here in 2007 looking north. [Wesley Johnston]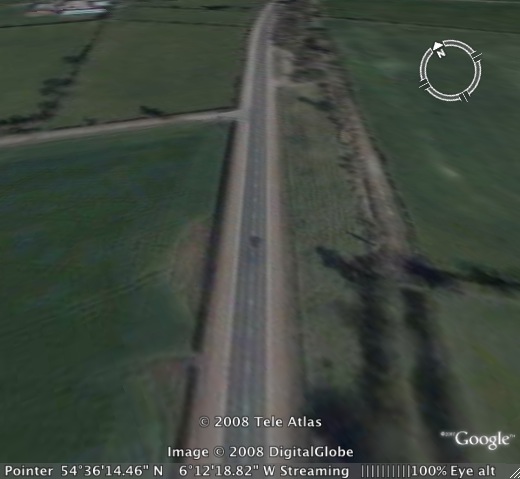 A Google Earth bird's-eye-view of the A26 at its northern end, illustrating a stretch which has hard shoulders. This design is common in Northern Ireland, but rare in the rest of the UK.