Status

Construction scheme (completed)

Where

To provide a free-flow citybound access onto the Sydenham Bypass from Belfast City Airport.

Total Length

102 metres / 334 feet of underpass + additional approach roads

Dates

Work began 28 May 2001

Opened 17 Feb 2003

Cost

£5.7m

See below.

A2 Sydenham Bypass on this site
The Belfast City Airport is accessed from the A2 via a signalised junction. However, this only permits vehicles to turn right into the airport. Vehicles leaving the airport had to turn left out of the city, travel about half a mile to the Tillysburn junction, and double back. When the airport expanded into a new terminal building north of the old building in 2001, the signalised junction was moved north along with it. However this brought it quite close to the point where the A2 rises on a hump to cross the main Belfast - Bangor railway line. This bridge was getting old and needed strengthened. As well as this, it was also too narrow - Roads Service wanted to provide 3+4 lanes over the bridge to extend the approach lanes for the major intersection with the A55 Outer Ring at Tillysburn. (See general area map link above).
The opportunity thus presented itself to kill several birds with the one stone. A temporary bridge was built just to the south and the old bridge completely demolished. The new bridge was built with a tunnel for the railway, but a second tunnel adjacent to it to provide a route onto the citybound carriageway from the airport grounds. Although it only carries one lane of traffic, the underpass was built wide enough to accommodate two lanes, presumably to future-proof the design. The work was undertaken by Farrans (Construction) Ltd.
The only complaint is that the sliproad has virtually no merge lane when it meets the A2, so vehicles joining the main road have to force their way into the traffic, or else continue on the hard shoulder. This is quite a dangerous set up. It is also quite low. With a clearance of 3.8 metres (12' 9") it cannot be used by large vehicles.
Photos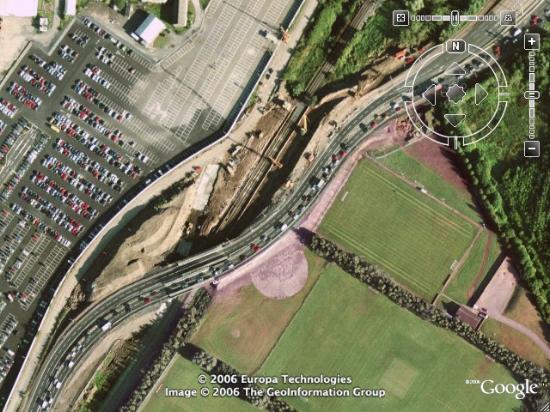 This satellite photo happens to have been taken while work was underway. The A2 has been diverted onto a temporary bridge while the old bridge is rebuilt. The base of the new underpass can be seen being laid just to the left of the railway line. [Image from Google Earth]
The view of the works from the temporary bridge in August 2001. The flat gravel area is the site of the future underpass. [Photo by Wesley Johnston]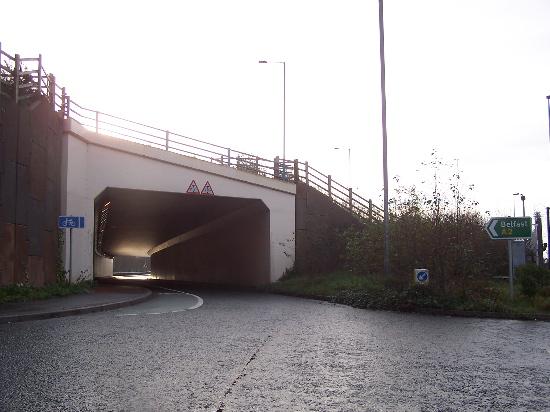 The completed underpass seen from the north in December 2006. [Photo by Wesley Johnston]