| | |
| --- | --- |
| Where | The main route connecting the M2 at junction 6 with Antrim town. |
| Total Length | 0.7km / 0.4 miles |
| Opened | Probably around 1971 |
| Cost | ? |
| | See below for photos. |
| | |
The B95 is the only B-classified dual-carriageway outside urban areas in Northern Ireland. It was destined to be something much grander, and might even have ended up as a motorway had history been different! As it is, it joins Greystone Road as the main route into Antrim from the Belfast direction. It begins at the Rathbeg roundabout and ends by narrowing down to a 2-lane single-carriageway road.
When this road was first built, probably around 1971 when the nearby M2 opened, the plan was for it to be a fully grade-separated bypass round the east of Antrim as far as the Belfast Road/Belmont Road junction south of the town. The road would have had two lanes each way and had two junctions: one at Greystone Road, and one at Ballycraigy Road. This map shows the route of the proposed road. In the end, however, only this first stretch was built, presumably because the rest of the road was never needed.
The road has since been realigned to flow directly onto Greystone road at the point where the first junction should have been. The former carriageway can still be explored on foot. The tarmac is heavily overgrown, and one lane has been dug up to lay a pipe, but white lines and the central reservation can still be made out.
Plans have been unofficially proposed to build a new bypass round the east side of Antrim by extending the B95 southwards. However, these proposals have so far not made it into the construction schedule so it is unlikely to happen within the foreseeable future.
Photos
The B95 seen looking towards the Rathbeg roundabout with Antrim
town behind the camera in 2005. [Photo by Wesley Johnston]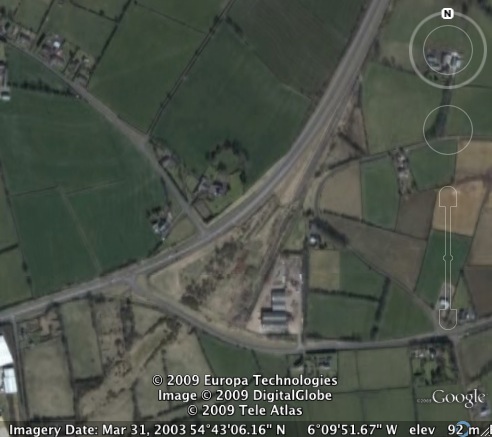 The B95 (coming from the top right) with its current alignment towards Greystone Road (to the bottom left). The planned alignment straight on is clearly evident. [Google Earth image]
The original southbound carriageway of the B95 looking towards Antrim. The road has now been realigned to the right. The original line can be seen in the first photo as the line of the hedge on the right. [Photo by Wesley Johnston]