Everyday Life in Celtic Ireland:
Although very like the Celtic cultures of the rest of Europe, that of Ireland had been influenced in part be the preceding Bronze Age culture. So Ireland's culture was not totally like that of mainland Europe. However, in many regards it was very similar. Much of what we know about specifically Irish culture has come down through the years in the form of Heroic Tales, such as the Ulster Cycle which tells of the exploits of Cú Chullain, the Hound of Ulster. Once thought to be historicaly unreliable, these Heroic Tales describe a way of life that fits well with what we now know about the Celts of mainland Europe. Thus it seems that, while the events described may have been embelished over the years, the underlying themes and props in the stories may be accurate descriptions of life in Iron Age Ireland.


It was, in many ways, a culture based around war. Ireland was divided into dozens - possibly hundreds - of petty kingdoms. Within the kingdoms, it was the blacksmiths, druids and poets who were held in high esteem: the blacksmiths for making the weapons of war, the druids for making prophesies and soothsaying, and the poets for putting the exploits of warriors to verse, to be sung around the cooking fires. The aristocracy in this culture was made up of the warriors, who sought fame and recognition by doing battle with their enemies. The young warrior would be initiated by mounting his chariot (a two wheeled wooden cart pulled by two horses), before proceeding to battle and cutting off the heads of his enemies to bring them home as trophies [1]. At the celebratory banquet afterwards, the warriors would compete for the "hero's portion" of the food being served. The weapons brandished by these warriors consisted of round wooden, bronze or iron shields, with iron spears or swords. The spear seems to have been more common than the sword.

Political Structure
By the later Celtic period, Ireland was ruled by a series of perhaps 100 to 200 kings, each ruling a small kingdom or tuath. The kings came in three recognised grades, depending on how powerful they were. A rí túaithe was the ruler of a single kingdom. A 'great king', or ruiri, was a king who had gained the allegiance of, or become overlord of, a number of local kings. A 'king of overkings', or rí ruirech, was a king of a province. Ireland had between 4 and 10 provinces at any one time, because they were always in a state of flux as their kings' power waxed and waned. Today's 4 provinces (Ulster, Munster, Leinster and Connaught) represent only the final state of these borders. Each province had a royal site, a place where important events took place. In 100AD there were royal sites at Emain Macha, near Armagh; Tara, county Meath and Dún Ailinne, county Kildare as well as other locations (see Celtic constructions above).

For most of the civilian population, however, life was spent in small farming units consisting of a wooden or wattle-and-daub house within a circular enclosure. Most would have had access to common land on higher ground on which to graze animals. Dairying was common, but almost everyone grew grain crops such as corn, oats, barley, wheat and rye. The land was ploughed using wooden ploughs pulled by oxen. Almost all farming was subsistence-based, and there was very little trade in food.

The only interruption to the daily ritual of grazing animals and growing crops would have been cattle-raids from neighbouring warriors, who may have pillaged and burned on their way to battle, although in general warfare seems to have been a highly formalised affair in which the peasants were usually not involved. By 400AD there were probably between half a million and 1 million people living in Ireland. This number would have fluctuated due to the recurrent plague and famine which affected all prehistoric cultures in Europe.

Brehon Law [7]
The law that the Celts of Ireland used has been called Brehon law. Forms of Brehon Law were used in Ireland for hundreds of years. A full treatment of Brehon Law is beyond the scope of this article, but the idea was that a person's identity was defined by the kingdom in which they lived. A peasant had no legal status outside the tuath, with the exception of men of art and learning. Those who were tied to their tuath were unfree and worked for the king. All land was owned by families, not by individuals. Wealth was measured in cattle, and each individual had a status measured in terms of wealth. Almost any crime committed against an individual could be recompensed by paying a fine equal to the status of the individual. For example, a 50 cows for an important person, 3 cows for a peasant. There was no death penalty; but, an individual could be ostracised from the tuath in certain circumstances.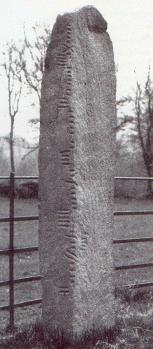 Language
The language spoken by the Celts in Ireland was Celtic, a variant of the Celtic languages which were used across Europe. In the British Isles, there were at least two dialects in use: Brittonic (P-Celtic) which was spoken in southern Britain and France, and Goidelic (Q-Celtic) which was spoken in Ireland and northern Britain. Brittonic is the root of modern Welsh, Cornish and Breton. Goidelic is the root of modern Irish and Scots-Gaelic. Brittonic and Goidelic must have been heavily influenced by the Bronze Age languages of Ireland.
The first written Irish appeared in the fifth century, around the same time as the initial Christianisation of Ireland. Called Ogham script, it consists of a series of grooves on the corner of a stone. Each combination of grooves represents a different letter of the Latin alphabet, and a number of Ogham stones have been found in Ireland and in Wales. Those in Ireland are mostly along the south coast. Usually they give the name of a person or ancestor and were probably commemorative. The picture on the left shows the Ogham stone at Coolmagort, county Kerry [4].