Construction scheme (under construction)

Graham/Farrans Joint Venture


Where

To upgrade the A6 from Randalstown to Toome, and from Toome to Castledawson to dual-carriageway (partly online, mostly offline). Existing Toome Bypass to remain as-is.

Total Length

6.8km (4.3 miles) M22 to Toome plus

5.4km (3.4 miles) Toome to Castledawson

Dates

Scheme announced as part of Regional Transport Plan 16 September 2003

A6 Toome Bypass (dual-carriageway) completed - March 2004

Preferred route announced 28 September 2005

Public inquiry held - November 2007; Departmental response to inquiry inspector's report - Autumn 2009

Revised junction designs completed - Jan 2011

Scheme put on hold until at least 2015 - 13 Jan 2011 / confirmed 14 Feb 2012
(changed from "2011" as of Dec 2010, "2011/12" as of Nov 09, "2011" as of Aug 08, and "late 2008" as of Apr 07)

Supplementary Public Inquiry for Bellshill/Annaghmore junction junction held - 13 Feb 2012
Inquiry Report rejects proposals for Bellshill/Annaghmore junction - 23 Jan 2013

Second revised Bellshill/Annaghmore junction designs submitted for planning approval - 5 Jul 2013
Planning granted for revised Bellshill/Annaghmore junction design - 3 Dec 2014
Construction tender process began - 28 Jul 2014; Tender awarded - 1 May 2015
Public Inquiry into Vesting Order for Bellshill/Annaghmore junction - 29 Sep 2015
Scheme given funding - 17 Dec 2015

Legal challenge received to Toome-Castledawson section - 27 Sep 2016; dismissed 27 Mar 2017


Appeal to legal challenge - 15 Aug 2017; rejected 19 Sep 2017
Construction was to begin - October 2016 (as of Aug 2016) - but delayed due to legal challenge


Construction to take three and a half years (as of Jan 2016; changed from 24 months as of June 2010)

Work on Randalstown to Toome and Moyola to Castledawson roundabout began - May 2017
Randalstown-Toome opened 9.30pm on 4 August 2019
Toome-Castledawson due to open "early 2021" (as of May 2017)


Cost

£189m (as of Dec 2019)
(changed from £160m as of Aug 2016; £150m as of June 2016; £120-140m as of Nov 2014; £100-120m as of Apr 2010; £100m as of Dec 2008; revised from £70m as of 2006, itself revised from £34m)

See below for photos and maps.
Click here to jump straight down to scheme updates.

The A6 is single-carriageway from the end of the M22 at Randalstown, to Derry. The most notorious bottleneck, the village of Toome, received a dual-carriageway bypass in 2004. However the roads on each side are still single-carriageway. The purpose of this scheme is to dual approximately 12km of the A6 from the M22 to the start of the Toome Bypass, and from the end of the Toome Bypass as far as Castledawson. In keeping with recent schemes, the two new stretches of dual-carriageway will be of a high quality with flyover junctions and no breaks in the central reservation. Traffic levels on the route vary from 12,000 vehicles per day at Castledawson to 17,500 per day at the M22 end.
The existing Toome Bypass was to have been upgraded as part of the scheme with both roundabouts removed, and the Hillhead Road T-junction west of Toome would have been closed. As of late 2010 this decision has been reversed, so both roundabouts will remain (Roguery Road will be enlarged) although the Hillhead Road T-junction will still be closed. This is unfortunate and short-sighted as it means what is otherwise a continuous free-flowing road with grade separated junctions from Belfast to Castledawson will have two roundabouts in the middle.

Route Map
The map below was released to the press by Roads Service in September 2005. It shows the western part of the scheme at the top, and the eastern portion at the bottom. The Toome Bypass has been added in black. Individual junctions are not shown.




The Bellshill Road / Annaghmore Road Controversy

The design of the scheme has been generally accepted with the exception of the connection between Bellshill Road and Annaghmore Road in Castledawson, which has (as of Jan 2013) twice been rejected at a Public Inquiry and is now being reconsidered a third time. The controversy has related to (a) the way in which locals will access the upgraded A6 from these two roads and (b) the impact of new connector roads on local residential and agricultural property. The maps below show the evolution of the proposals.

ABOVE: Original design proposed but rejected at 2007 Public Inquiry.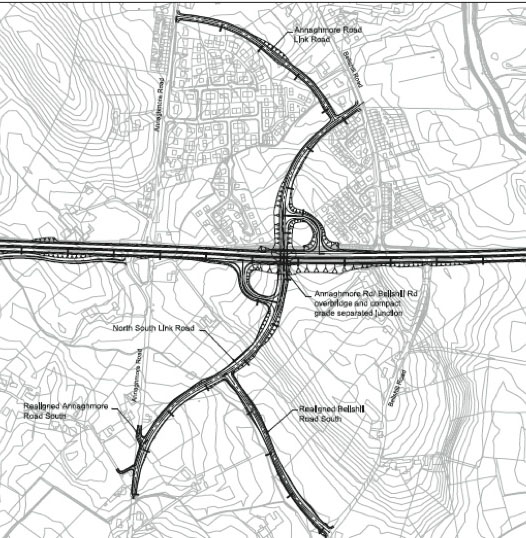 ABOVE: Revised design submitted at 2012 Public Inquiry but again rejected.
(You can see this map in more detail at the
end of this document
.)
ABOVE: Inspector's recommended design as of 2013.
(You can see this map in more detail at the
end of this document
.)
ABOVE: Roads Service's revised design as of June 2013, which is their refinement of the inspector's suggested design (compare to previous map). You can see this map in more detail
here
.
Background to the Scheme
The original grand motorway plan of 1964 would have seen the M22 extend from Antrim past Toome and terminating at Castledawson. (Londonderry traffic would have followed the M2 as far as Ballymoney and then taken the proposed M23 to the city). When this scheme got abandoned in 1975, the M22 had not even made it as far as Toome and it left the single-carriageway A6 as the most direct route to Londonderry. It has been in this state for the intervening 30 years with the narrow and twisty section from the M22 to Toome one of the poorest standard trunk roads in Northern Ireland.
Strip Junction Map
See also route map above. This is a strip map of the design that is being built as of 2018. The existing Toome Bypass, which will remain in situ, is highlighted in yellow.




EAST

Begins as M22 motorway

2+2 lanes

RANDALSTOWN WEST

or ARTRESNAHAN

A6 Moneynick Road
(to Randalstown)

B183 Moneynick Road

(former A6)




7.0 km / 4.4 miles - 2+2 lanes

DRUMDERG


B183 Moneynick Road

(former A6)

B18 Moneynick
Road

(into Toome)

1.2 km / 0.7 miles

- 2+2 lanes

ROGUERY ROAD



Roguery Road




The Toome Bridge


Roguery Road
(into Toome)

River Bann

0.7 km / 0.4 miles - 2+2 lanes

OLD BANN ROAD

Local farm access

(eastbound only)

Old Bann Road

(eastbound only)

0.3 km / 0.2 miles

- 2+2 lanes

Local farm access

(eastbound only)




1.4 km / 0.9 miles - 2+2 lanes

THE CREAGH

Boilas Lane

B? Hillhead Road

Creagh Business Park

B? Hillhead Road

1.6 km / 1.0 miles - 2+2 lanes

DEERPARK ROAD

Deerpark Road

Deerpark Road

1.3 km / 0.8 miles

- 2+2 lanes

HILLHEAD ROAD

Hillhead Road

(into Castledawson)

B? Hillhead Road

(current A6)




2.0 km / 1.2 miles - 2+2 lanes

BELLSHILL ROAD /

ANNAGHMORE ROAD


Linking to

Bellshill Road

Local access



Link to Annaghmore Road

1.2 km / 0.7 miles - 2+2 lanes

CASTLEDAWSON

A54 Magherafelt Rd

(into Castledawson)

A31 Magherafelt Road

(to Magherafelt)

WEST

Terminates as A6 towards Londonderry
25 May 2020: Work has been continuing on the scheme during April and May, albeit with some delays due to COVID-19 restrictions. At the western end, more work has been taking place on the Castledawson Bypass, which is still reduced to one lane each way. Works are evident between Bellshill Road overbridge and between Broagh Road and the Hillhead Road bridge (on the eastern side of Castledawson) where the new dual-carriageway heads away from the route of the current A6. However, work to tie these two section together is ongoing with one layer of tarmac visible eastbound heading away from the current A6 towards Hillhead Road. Minor works also seem to have been taking place on the eastbound sliproads at Bellshill Road. Meanwhile, at Deerpark Road traffic has yet to be diverted over the new bridge, and so far no tarmac seems to have been laid across it. There is evidence, however, of tarmac being laid nearby on the dual-carriageway itself as shown in pic 1 below. Work is also continuing along the stretch close to Lough Beg, as shown in pic 2 below, with the hardcore base of the road now in place on at least part of it. DFI have admitted that this whole stretch, which is due to be completed by spring 2021, may be delayed due to COVID-19. On 21 May a spokesperson said "The [offline] section from the Broagh [Castledawson] to Toome is not as advanced, with significant works still to do. It had been planned that the scheme would be complete in early 2021, but the coronavirus may influence this negatively". At the eastern end of the scheme, approaching the tie-in to the existing Toome Bypass, there is evidence of ongoing work but progress to date seems to be limited to earthworks and drainage works, with no sign of the base layers of the road itself as yet (see pics 3 and 4 below). Finally, you might be interested in this drone footage of the completed Castledawson roundabout with its two new footbridges. With thanks to John Goddard and Seamus Graffin for these photos and to Fred Fisher for his observations.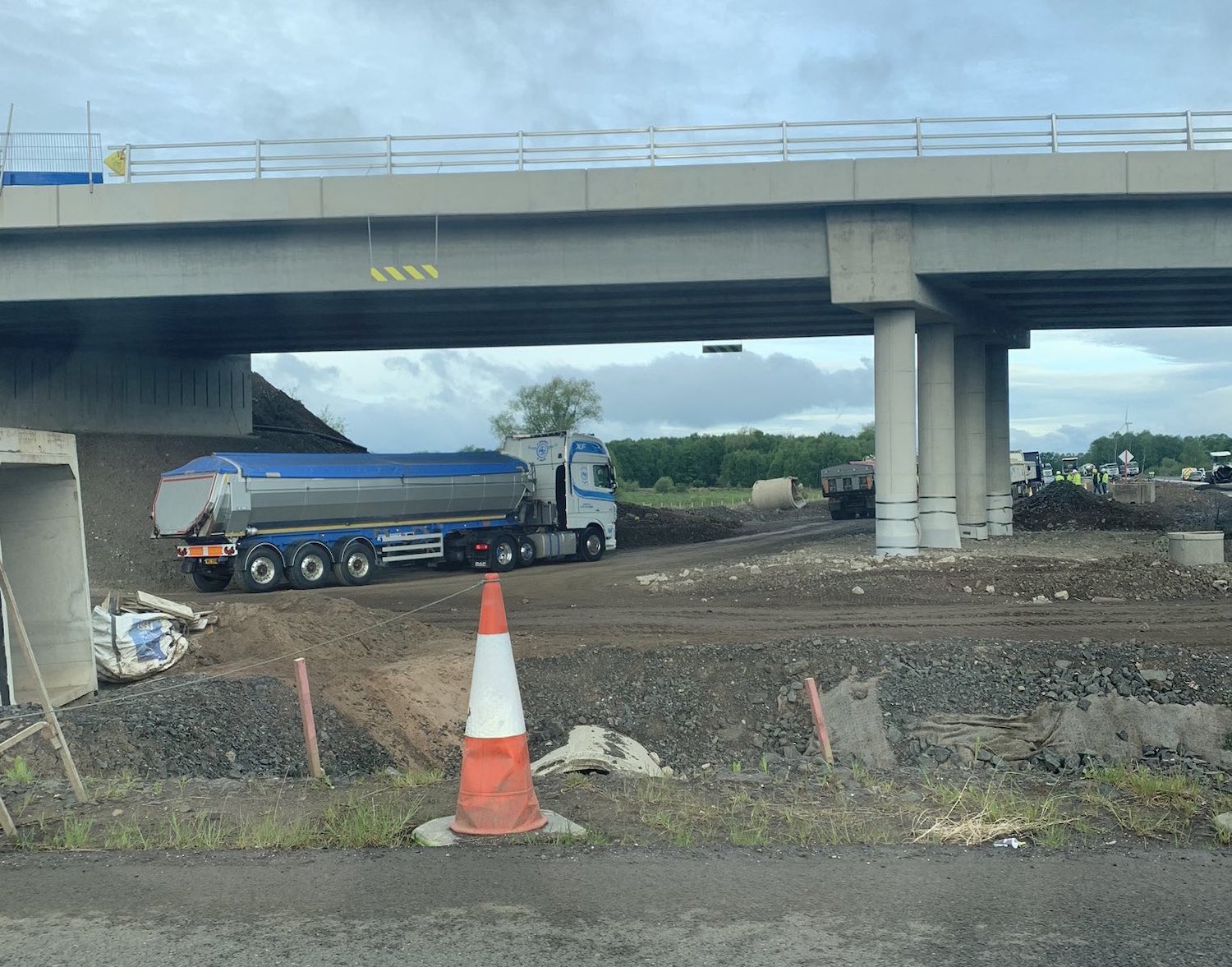 Pic 1: Lorries probably containing asphalt heading east onto the section of new dual-carriageway near Lough Beg (from Deerpark Road to Hillhead Road) on 18 May 2020 [John Goddard].
Pic 2: View south-east along the stretch of new dual-carriageway that passes close to Lough Beg, between The Creagh and Deerpark Road, on 30 April 2020 with Deerpark Road behind the camera and The Creagh bridge visible in the far distance ahead. The pillars in the foreground are for an agricultural accommodation bridge close to Aughrim Hill (off frame to the right), while the next bridge ahead is another agricultural accommodation bridge. [Seamus Graffin]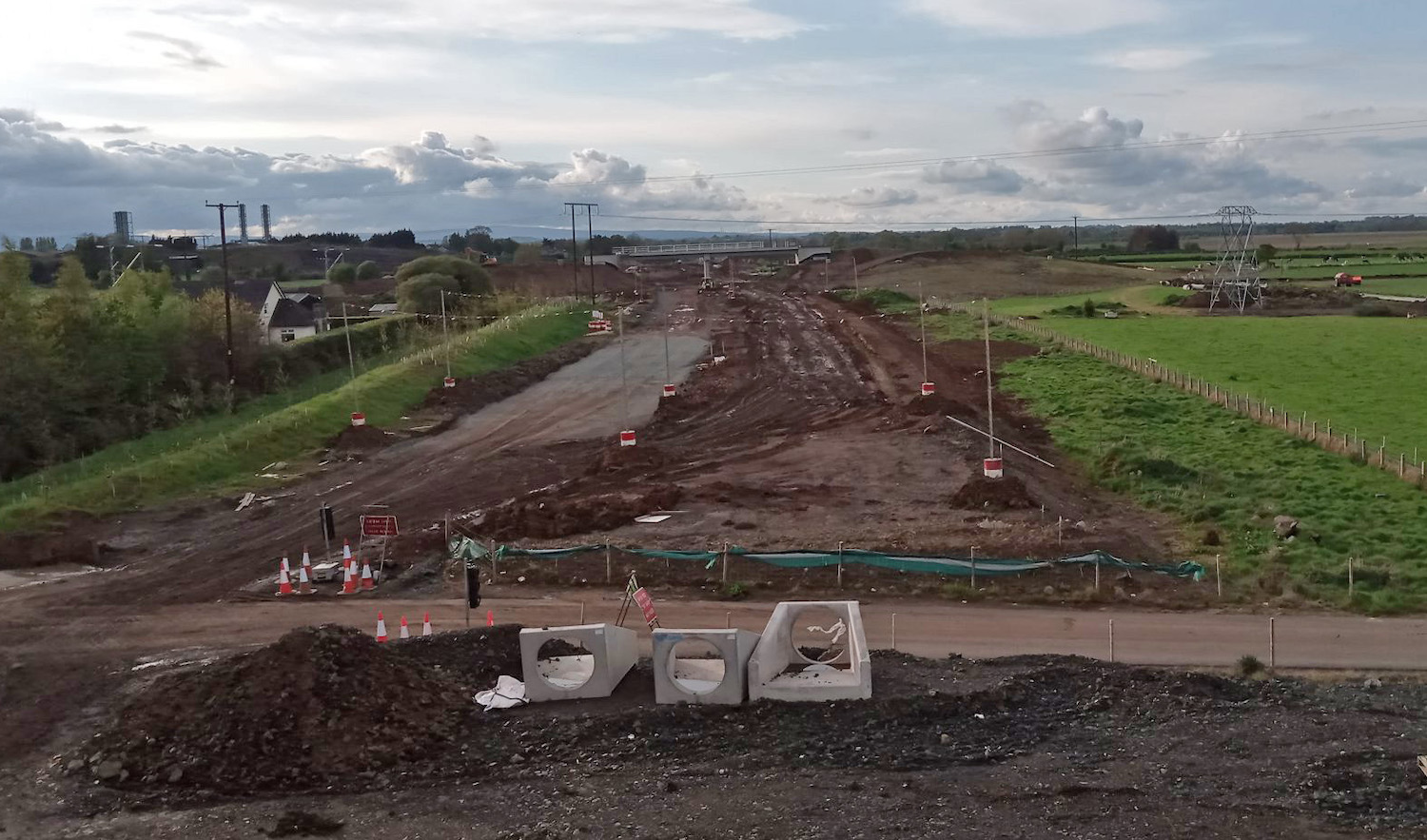 Pic 3: View north-west from the flyover at the future Creagh grade-separated junction near Toome on 30 April 2020, looking towards Deerpark Road. The bridge visible ahead is the same agricultural accommodation bridge visible in the distance in pic 2. Work on the road bed itself is still at the earthworks stage. The road in the foreground is an existing public road that remains open for now, but will be closed when the junction opens. The red-and-white barrels mark the location of overhead wires for the safety of site staff. [Seamus Graffin]
Pic 4: Same location as pic 3, this is the view south-east from the flyover at the future Creagh grade-separated junction on 30 April 2020, looking towards the tie-in with the existing Toome Bypass. As previously, work here is not as advanced as in other places, but there is evidence of drainage works in the distance. The stretches of earth going to the left and right just ahead are the future on/off-slip pairs, one for each carriageway. You can just about see the future kerbline for the westbound offslip opposite the JCB. The two carriageways will diverge slightly going round this corner, perhaps to provide forward sightlines, with an extra-wide central reservation. [Seamus Graffin]
21 Apr 2020: Since the last update the contractor has confirmed that work on the scheme has been scaled back due to the Coronavirus epidemic. Hillhead Road in Castledawson is currently closed to allow Hillhead Road to be diverted up and over the new flyover. This work was due to be completed on 6 April, but now seems to have ground to a halt with the foundation of the road in place over the bridge, but no blacktop as yet. The two pictures below were taken by Seamus Graffin from this as-yet-unopened bridge on 16 April and show the site as it looked then. These show good progress on the new dual-carriageway, but not much activity evident. The contractor has said that due to coronavirus "it is not possible to state when the overbridges at Hillhead Road and Deerpark Road, nor the four lanes from Castledawson Roundabout to Brough [Road] will open". Hopefully the contractor will be able to get up and running again as soon as it is safe to do so. It's possible this might lead to some slippage in the timeframe for completion, which is currently planned for "early 2021".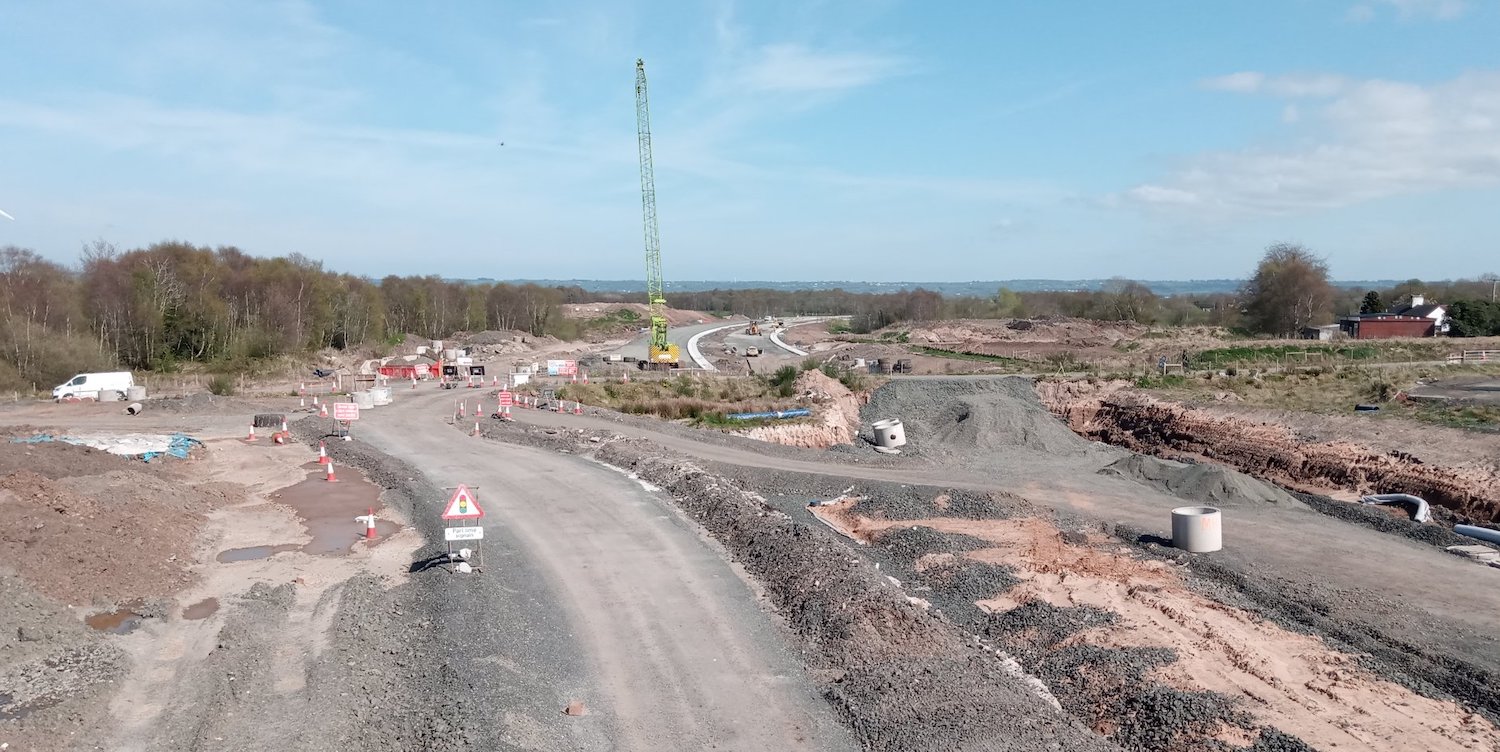 View east along the future dual-carriageway (towards Toome) from Hillhead Road overbridge on 16 April 2020. The 'temporary' route of Hillhead Road, that has been in use for the past year or so, can be seen running left-right across the site ahead. Once the bridge is open the eastbound off/onslip pair will join the new road on the left foreground here. In the distance you can see the stretch of dual-carriageway towards Deerpark Road taking shape with the (white) drainage channels in place and hardcore being laid. [Seamus Graffin]

View east along the future dual-carriageway (towards Castledawson roundabout) from Hillhead Road overbridge on 16 April 2020, showing much more progress on this part of the scheme. The westbound off/onslip pair can be seen nearing completion in the left foreground here, while a drainage channel in the central reservation, and one on the inside of the bend on the right can be seen. The hardcore base of the road is also in place, with just blacktop needed. [Seamus Graffin]
10 Apr 2020: In recent weeks it has been very difficult to find out what is happening on this scheme. This might be because of Covid-19 and the need to reduce nonessential staff, or it may be to do with the scheme scaling back as it enters its final year. No movies have appeared on YouTube for three months. We can say that the Hillhead Road in Castledawson does not see to be open yet, despite this being the plan before the pandemic. It was closed to allow Hillhead Road to be realigned over the new flyover over the future dual-carriageway. The stretch that runs close to Lough Beg (between The Creagh and Deerpark Road) was off limits to major works due to overwintering swans but that restriction has now ended so work can resume here too. It is likely that we will see work on the dual-carriageway along this stretch advance during the summer months. Finally, the two new footbridges and connecting foot/cycleway traversing Castledawson roundabout came into use at the end of March after more than a year of work. See photos below. The bridge will make it much easier for pedestrians and cyclists to traverse this busy junction safely.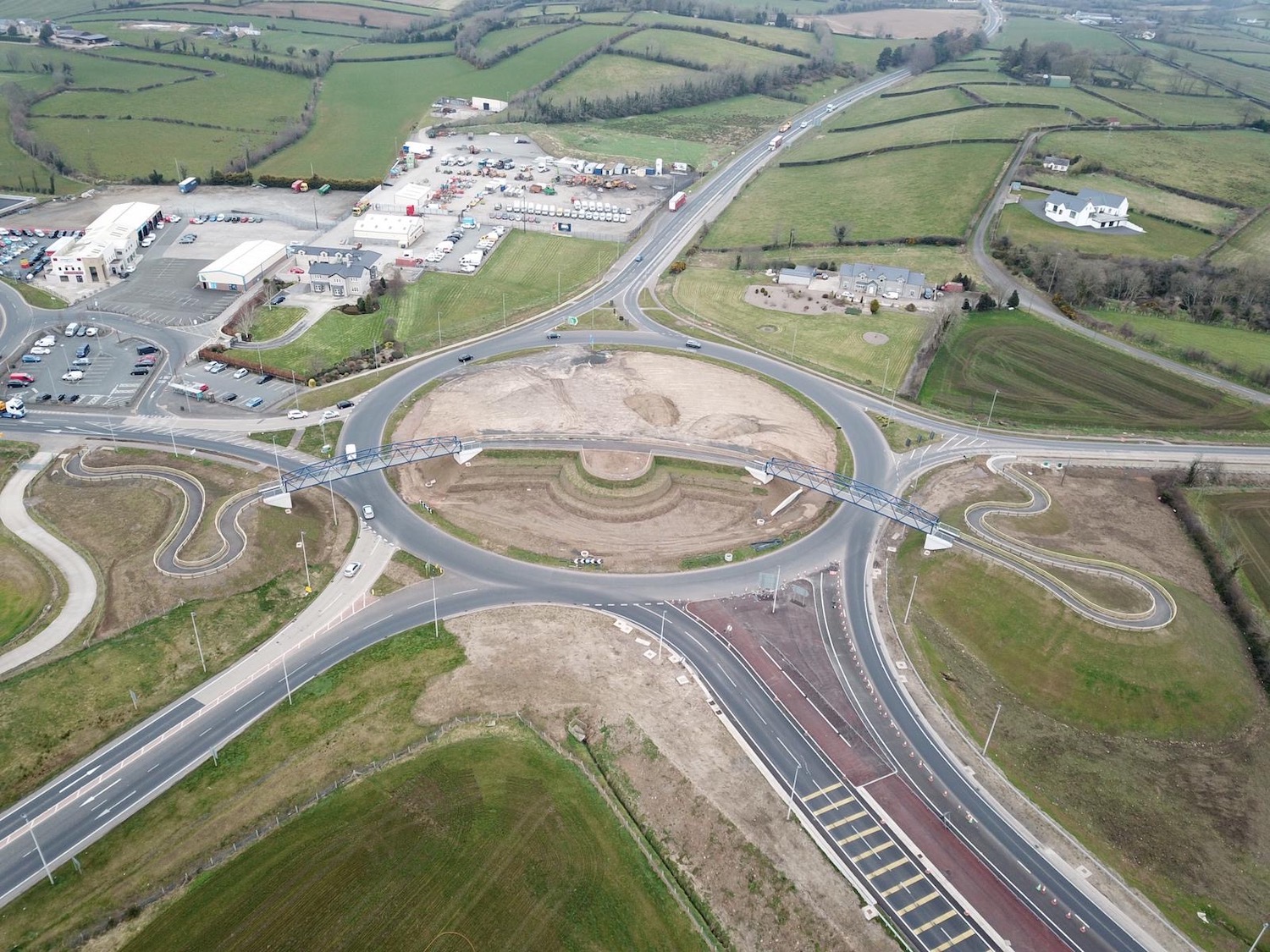 Pic 1: Castledawson Roundabout seen from the air c31 March 2020, with the foot/cycleway and its two box-girder arch bridges now completed. The future A6 dual-carriageway can be seen at the bottom right, while the recently-completed A31 Magherafelt Bypass is visible at the bottom left. The pathway features a landscaped vantage point at the centre, and will presumably be planted with vegetation in due course. [DFI Roads image]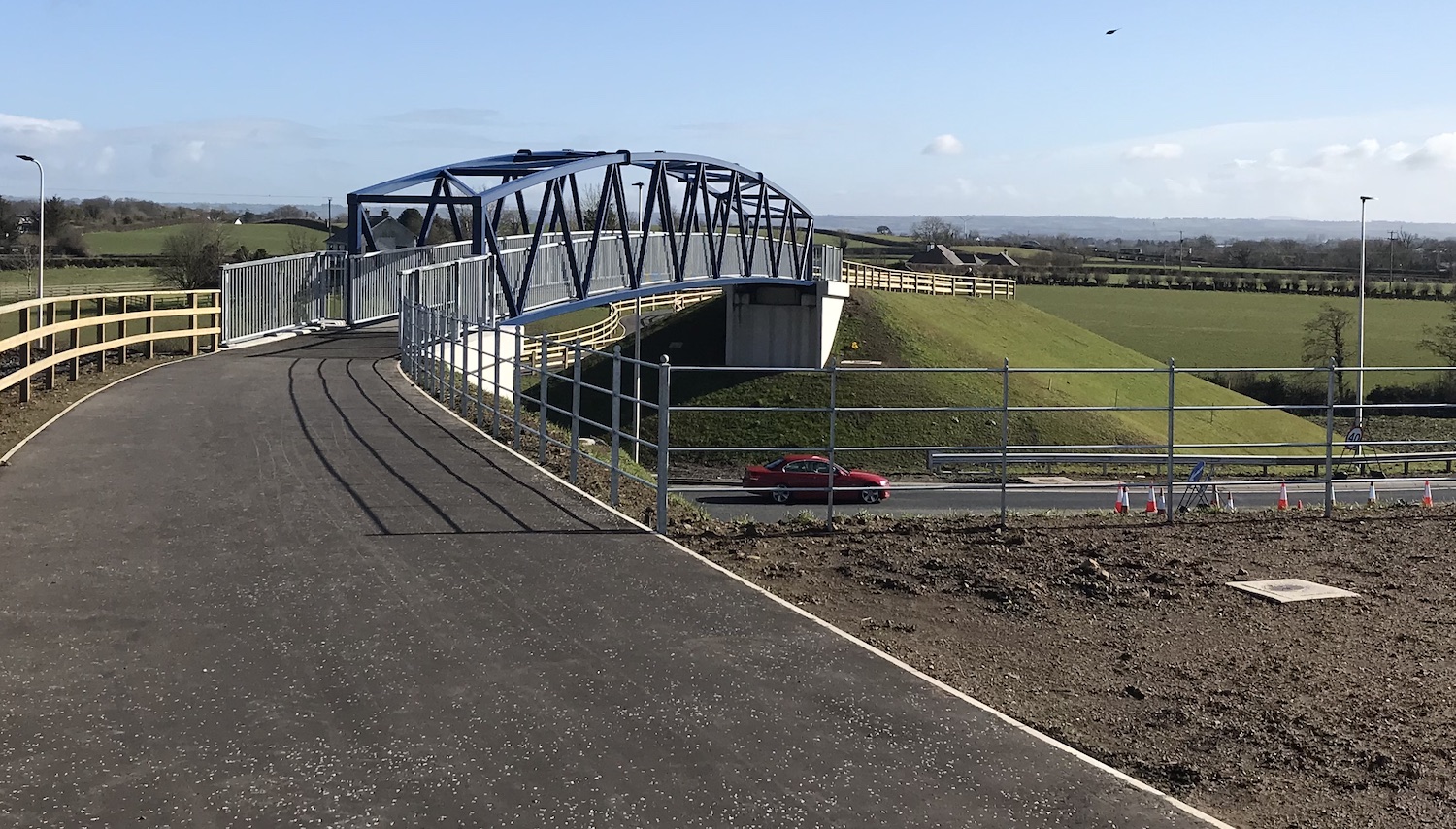 Pic 2: View of one of the two new footbridges, seen looking north east from the centre of the roundabout c31 March 2020. [DFI Roads image]
27 Feb 2020: The scheme is now entering its final phase, with two and a half years of work now under the belt and completion due this time next year. As the active area of the scheme diminishes, the contractor is scaling back the number of staff on the project which means that there are fewer interesting things being posted online. The easternmost half of the scheme, Randalstown to Toome, is largely completed, though final works are continuing along it. Meanwhile, at the western end the stretch from Castledawson Roundabout to Brough Road, which is an upgrade of the original Castledawson Bypass, is largely completed with traffic using both carriageways, but currently coned down to one lane in each direction. You can see a video of this stretch as it was about 6 weeks ago in this YouTube video. Pic 1 is a screenshot from a DFI webcam taken during the snow on 24 February showing traffic on this stretch. Pics 2 and 3 are also views of this stretch. This online stretch ends close to Brough Road. Brough Road South currently joins the A6 at a T-junction, but this week work has been underway to realign it onto the current A6 to the east, what will be a local road when the dual-carriageway is completed. This can be visualised by looking at how it looked in January in pic 4 below. You can also see the new footbridge that was installed recently. The offline stretch from Brough Road to Toome is the least developed, as shown in pic 5. There are three grade-separated junctions on this stretch - at Hillhead Road, Deerpark Road and The Creagh. All three seem to have their bridge decks in place and works are underway in each case to realign roads over/under them. At Hillhead Road this has meant a full closure of Hillhead Road from mid January until late March. Something similar will happen at Deerpark Road during March. Major works on the stretch close to Lough Beg (between The Creagh and Deerpark Road) are currently paused due to overwintering swans but will resume next month. This stretch includes two accommodation overbridges, which seem to be completed though not tied in to the nearby road network. A huge borrow pit that was dug in the flank of Aughrim Hill now seems to have been filled in again and will be restored back to its previous appearance in due course. I would expect to see this stretch largely completed by the autumn (and perhaps even opened in the autumn?) but with finishing works continuing into 2021.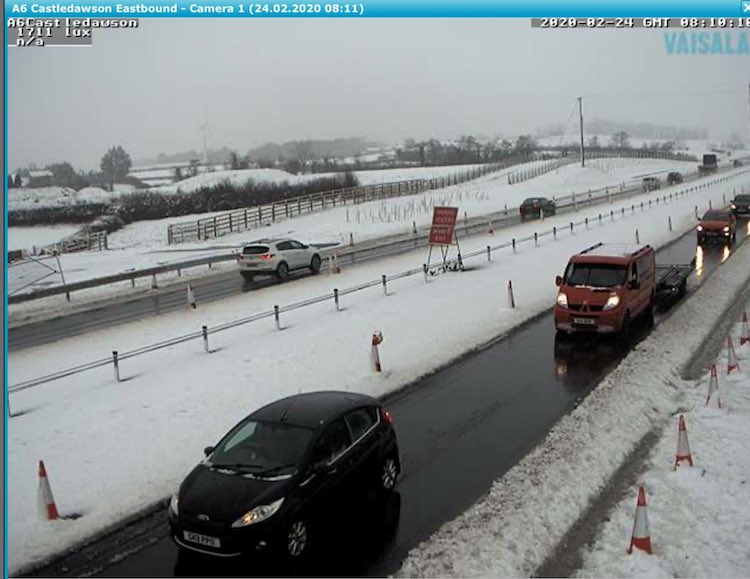 Pic 1 – Still from DFI Traffic Camera on 24 Feb 2020 showing the (snowy) new Castledawson Bypass with one lane open each way.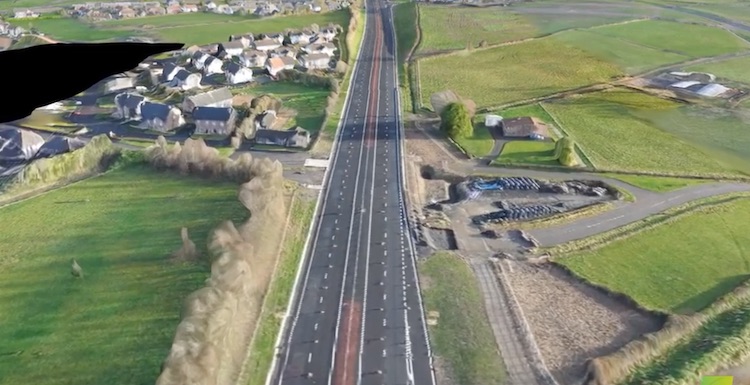 Pic 2 – Completed A6 Castledawson Bypass as it was on 10 Jan 2020 in this computer-generated aerial image. Also shows Annaghmore Road North (left) and South (right) now permanently closed off. On the right you can see both the original (pre-1990) line of Annaghmore Road, and the diversion that was built when the original Castledawson Bypass opened in 1990 to create a pair of staggered T-junctions. All traffic now uses a new link road to join at Bellshill Road up ahead; see pic 3 below. [Still from this YouTube]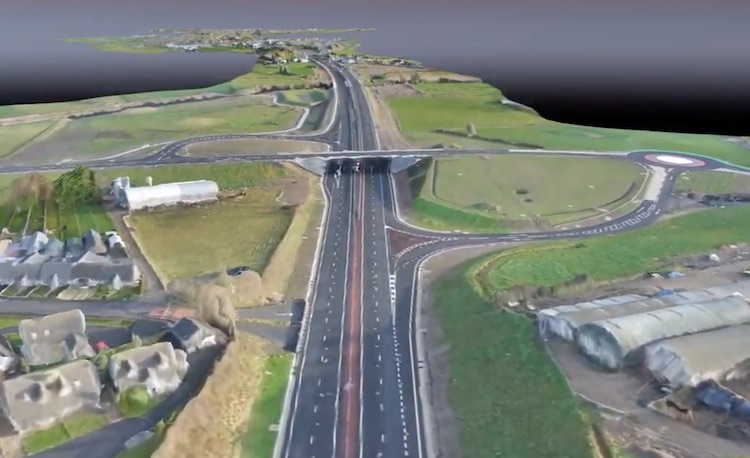 Pic 3 – the new Bellshill Road grade-separated junction open and in use on 10 Jan 2020 (though with the merges set up as Give Ways rather than onslips for now). On the left foreground you can see the original (1990) T-junction with Bellshill Road North, now permanently sealed off. The original T-junction of Bellshill Road South on the right was buried under the new junction. [Still from this YouTube]


Pic 4 – View east along the new dual-carriageway at Brough Road on 10 January 2020. Works took place during February to realign Brough Road South (on the right) onto the current A6 (a future local road) going straight ahead. For now access is still possible via the temporary link visible in the foreground. From this point to Toome the new road runs offline. [Still from this YouTube]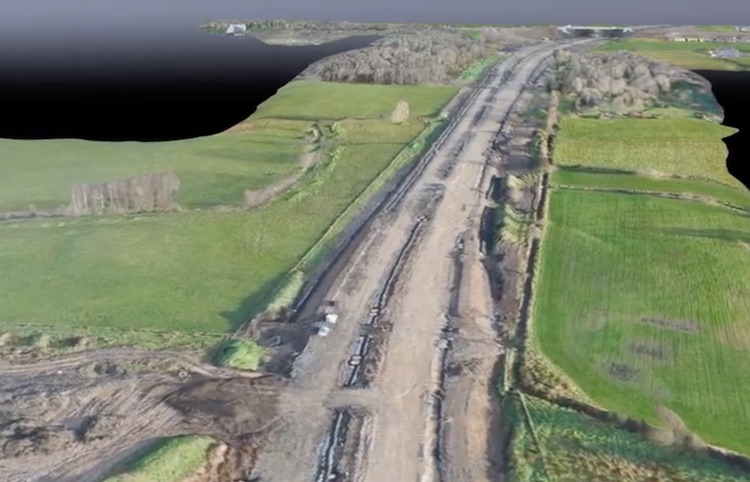 Pic 5 – View east of a section of the new A6 between Hillhead Road and Deerpark Road (visible in the distance) as it was on 10 January 2020. The formation (i.e., the foundation) of the new road is in place here, as is some of the drainage but the road itself still has to be constructed. [Still from this YouTube]
For updates prior to February 2020 please see the archive.