Status

Construction scheme (current)

Where

To construct a bus-based rapid system in Belfast running from the city centre to the east and west of the city, and to Titanic Quarter

Total Length

In total approx 24.5 km / 15.2 miles of which:
WWAY - approx 9.8 km / 6.1 miles
EWAY - approx 8.8 km / 5.5 miles
CITI - approx 2.8 km / 1.7 miles
plus a common city centre loop - approx 3.1 km / 1.9 miles


Dates

Strategic Outline Case published 8 Apr 2008

Scheme given approval 27 Nov 2008
Public consultation ran 12 Oct 2011 - 6 Jan 2012
Outcome of consultation published - 24 Apr 2012
Outline Business Case to be published - 22 Nov 2012
First construction tender released - 23 Oct 2013
First construction tender awarded - 28 Mar 2014


First actual work commenced 19 May 2014 (Dundonald park-and-ride)


(changed from "late 2013" as of Dec 2013; "during 2012" as of June 2010, and "by 2011" as of Nov 2008)


System due to be operational Autumn 2017 (as of May 2014)


Cost

£98.5m as of Nov 2012
(changed from £150m as of Nov 2008)

See below


Official web site for scheme
Wrightbus web site

Public Information Leaflet - Roads Service
Rapid Transit Enabling Measures for city centre - on this site

Click here to jump straight down to the latest updates on this scheme.

Since 2008 Belfast has been formally exploring the idea of a rapid-transit system. This quickly settled down to be a high-quality bus-based system, although with modern vehicles with a tram-like feel with off-vehicle ticketing and fast journey times that hinge on the use of a dedicated traffic lane that is not used by general traffic. The ultimate ambition seems to be for routes running from the city centre to the north, east, south and west with an additional line to Titanic Quarter. The plan is to build three initially and to have them operating by 2017/18.

The scheme is included on this web site as it will involve the construction of new dedicated roadways, and the modification of the existing road network to create segregated routes for the buses.
As of November 2012 these routes are confirmed to be:
CITI

- Queen Elizabeth Bridge > Queen's Quay > Queen's Road to Titanic Quarter and returning to the city centre via Queen's Road > Queen's Quay > Station Street > Bridge End > Queen's Bridge.


EWAY

- City Centre > Albertbridge Road > Upper Newtownards Road to park-and-ride somewhere in Dundonald


WWAY

- City Centre > Divis Street > Falls Road > Andersonstown Road > Stewartstown Road to a park and ride site near Dairy Farm and/or McKinstry Road Roundabout
More detailed maps of the routes can be downloaded from this page.

The Regional Development Minister said in November 2008 that he expected the scheme to run at five-minute intervals at peak times and attract 5.5 million passengers per year. He also said that he would be seeking additional funding from the private sector, although the recession has since ruled that out. It seems likely that the buses will be supplied by Wrightbus, based in Ballymena, who are a global leader in this technology.

Although work had been due to begin by 2011 back in 2008, the scheme was put on the longer finger after the budget cuts of January 2011.

Historical Background – The Financial Case for a Bus-Based System
In April 2008, the DRD released figures that they say shows that a bus-based system is more economically viable than light rail. These figures are shown below and were sourced from this press release. Certainly the bus based system is much cheaper to both build and run, although it is likely to attract less patronage. Most of the criticism of the decision not to build light rail has been to do with the international "prestige" of light rail and the fact that it is seen as "better" by many users. In April 2008 the DRD said "The study found that bus based rapid transit produces positive economic results but light rail does not. This is because the likely numbers of passengers do not warrant the extra cost of light rail. There will be the option of migrating to light rail in the future should the demand increase."
BUS BASED SYSTEM

Annual Operating
Cost £m

Passengers in Morning Peak (estimated)

East Belfast Scheme

West Belfast Scheme

Titanic Quarter Scheme

TOTAL

£147

£1.44

3179
LIGHT RAIL SYSTEM

Annual Operating
Cost £m

Passengers in Morning Peak (estimated)

East Belfast Scheme

West Belfast Scheme

Titanic Quarter Scheme

TOTAL

£590

£6.78

3805
Photos
A Wrightbus "Streetcar" being used on York's FTR bus-based rapid transist system in April 2007.
Belfast's system is likely to look very similar. The copyright on this image is owned by RobertG and is licensed for reuse under the GNU Free Documentation License version 1.2. See this image's original location on Wikipedia Commons.

Elements of the Project

Project

Cost

Current status

Start date

End date

Dundonald Park-and-Ride

c£1.57m

COMPLETED

19 May 2014

1 December 2014

Upper Newtownards Road (Sandown Road to Knock Road)

c£1.43m

COMPLETED
23 June 2014

27 March 2015

Falls Road (Grosvenor Road to Whiterock Road)

c£3.25m

UNDERWAY

8 September 2014

October 2015
(previously Jul and then Aug 2015)

Andersonstown/Stewartstown Road (Finaghy Road North to Upper Dunmurry Lane)

c£3.0m

Went out to tender on 23 Oct 2013

TBC
(previously Mar 2015)

TBC

Upper Newtownards Road (Albertbridge Road to Sandown Road)

c£1.5m

Went out to tender on 13 Jan 2015

May 2015

November 2015

Divis Street/Falls Road (Millfield to Grosvenor Road)



In planning

July 2015
(previously May 2015)

July 2016

Further elements are to follow between 2015 and 2017.









17 Apr 2015: The improvements to the Upper Newtownards Road (Sandown to Knock Road) were completed on 27 March 2015. That marks completion of the second element of the project, so congratulations to the project team. There is just one element currently under construction, and that is the Falls Road (Grosvenor Road to Whiterock Road) scheme which began in September 2014. Originally scheduled for completion in July 2015, then delayed to August and it now looks to have been delayed again as estimated completion is now being given on the DRD web site as "October 2015". Three elements are in planning (see above), but none have as yet commenced: The Upper Newtownards Road (Albertbridge Road to Sandown Road) scheme is still due to commence in May 2015. It has been out to tender since January, and as yet no contractor seems to have been appointed. The Divis Street/Falls Road (Millfield to Grosvenor Road) stretch was due to commence in May 2015 but this has now been pushed back to July 2015. It does not appear to have gone out to tender yet, so even this looks a bit optimistic at this stage. The Andersonstown/Stewartstown Road (Finaghy Road North to Upper Dunmurry Lane) element has been out to tender since October 2013 but has yet to be awarded, implying there is some sort of issue preventing this one going ahead. Finally, there are of course a large number of additional elements that have yet to progress to the point of going out to tender.

Actual construction has now been underway for 11 months. According to the DRD, the whole system is due to become operational in Autumn 2017, which is about 30 months from now. The total length of the project - in terms of dedicated rapid transit lanes - is just over 24km, and to date work has been completed or is underway on about 2.4km of this. Some additional lengths, such as the 3km in the city centre, don't require much more work since they were largely built as part of the Belfast on the Move bus lane project. So at this point we've only commenced or completed work on around 10% of the scheme, but are more than a quarter of the way through the construction period. The pace of work does appear to be slower than would be necessary to complete the whole project by Autumn 2017 as planned. This may be due to the financial situation, or it could be that the pace of work will increase over the coming year. Watch this space.

7 Feb 2015: As stated in the previous update, work on the Divis Street/Falls Road (Millfield to Grosvenor Road) stretch is due to commence in May 2015. It was announced this week that on 12 and 13 February there will be a public information event to let residents know what is planned and give you an opportunity to speak to the planners of the scheme. It will take place in Falls Road Library on Thursday 12th February 2015 between 11:45am and 7:45pm and on Friday 13th February 2015 between 9:45am and 1:45pm.

28 Jan 2015: A quick update to note that the fifth tender for the project was released on 13 January 2015. It covers works to the Upper Newtownards Road (Albertbridge Road to Sandown Road). The estimated cost of this element is given as £1.5m. The start date has been pushed back slightly to April 2015, but the completion date is still being given as November 2015. Meanwhile, the DRD web site now says that the sixth element, Divis Street/Falls Road (Millfield to Grosvenor Road), will get underway in May 2015 and be completed in June 2016. This timescale would require the tender for this element to be issued within the next month or so. Finally, the same web page is no longer giving an estimated start date for the Andersonstown/Stewartstown Road (Finaghy Road North to Upper Dunmurry Lane) element which has been out to tender since October 2013. There is presumably some issue here. The Northern Ireland Budget 2015-16 which was published a couple of weeks ago thankfully continues funding for this scheme.

7 Dec 2014: The first component of Belfast Rapid Transit to be completed, Dundonald Park-and-Ride, opened to traffic on 1 December 2014. I have driven past it each morning since then and a few dozen commuters appear to be using the site already which is an encouraging sign so early on. The 520-space site is located here and is accessible via fully traffic-light-controlled junctions. Engineers were evident on the first few days watching how traffic responded to the change and making adjustments. The traffic signals on Upper Newtownards Road at Dunlady Road may be triggered by buses since I've noticed that a bus emerging from the park-and-ride seems to cause the signals to change early. This is likely deliberate, to give buses the shortest possible waiting time. The park-and-ride is served by Ulsterbus services. However, during the morning and evening peaks (roughly 7-9am and 3pm to roughly 6.45pm) it has its own dedicated express Metro service, the 4X - timetables here. The photos below show the completed terminal building in use. Meanwhile, we are still awaiting a definite start date for the scheme to construct the BRT infrastructure on the Divis Street/Falls Road (Millfield to Grosvenor Road) stretch. The minutes of a TransportNI Board meeting held on 1 October (but just published) says "ongoing discussions are taking place with DSD/BCC [Dept of Social Development and Belfast City Council] in relation to the delivery programme and funding for the works on the Falls/Divis scheme". The DSD is responsible for public realm works (such as nice footpaths) and Belfast City Council will be taking on this role from April 2016. So this sounds like the DRD, DSD and BCC are working together to ensure that they combine their various plans for this road so that someone isn't coming along and digging stuff up weeks after it's built. This is the sort of thing that attracts much criticism, so the fact that the three bodies seem to be collaborating in this locality deserves to be highlighted and applauded. Finally, in terms of overall timescale, the DRD has released a draft budget for the period 2015-16. In the face of significant funding cuts, the document commits to completing Rapid Transit, but it does contain the worrying comment that "it may be necessary to manage delivery over a longer timeframe". The system is due to the completed and operational by Autumn 2017 so this suggests funding cuts may push this timescale on a bit. (With thanks to Steven Patterson for a correction.)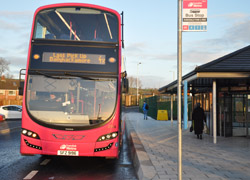 4X Metro service serving the new Dundonald Park-and-Ride. [DRD image from here]

23 Nov 2014: Work on the park-and-ride site at Dundonald seems very well advanced with the car park largely completed, as shown in the picture below. The new traffic signals for its junction onto Dunlady Road are now in place, covered with orange hoods. It is due to be completed in December, so it should open any time. It will initially operate as a conventional park-and-ride served by Metro buses, presumably (hopefully?) beginning early in 2015. TransportNI has also confirmed that all BRT works will be suspended from tomorrow (Monday 24 November) until Friday 2 January as part of their "Christmas roadworks embargo". They do deserve the appreciation of motorists who have tolerated the various works for this gesture of goodwill. This may be part of the reason why the completion date for the works on Upper Newtownards Road (Sandown Road to Knock Road) has been pushed back quite considerably from November 2014 to February 2015. This revision suggests that the works are behind schedule and have not been completed prior to the Christmas works embargo beginning. The fact that they will now not be able to do any work for six weeks is why it will probably take until February to complete everything. The completion date for the Falls Road (Grosvenor Road to Whiterock Road) scheme, which began in September, has also been pushed back slightly from July to August 2014. The Andersonstown/Stewartstown Road (Finaghy Road North to Upper Dunmurry Lane) scheme was due to have begun in January, but is now expected to begin in March. There seems to be a bit of a delay in awarding the contract for this component - at the time of writing a contractor does not seem to have been appointed. TransportNI are keeping their own page on this scheme impressively up to date so it would be worth bookmarking it.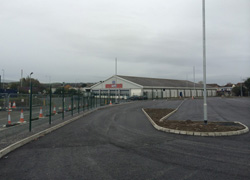 The almost-completed car park for the Dundonald park-and-ride, seen on 3 November 2014 [TransportNI image from here].

22 Sep 2014: Just a quick update to let you know that the BRT team are holding two public information events in east Belfast to inform people about the impact that this scheme is going to have on the Newtownards Road from Albertbridge Road to Sandtown Road. They are being held in Holywood Arches Library on Thursday 25th September 2014 between 12:30pm and 7:45pm and on Friday 26th September 2014 between 12:30pm and 5:15pm.

18 Sep 2014: Due to the increasing number of components getting underway, I have now added a table above to help you keep track of it all. At Dundonald, works to adjust the lanes approaching the Dunlady Road junction for the new park-and-ride facility appears to have finished. You can see photos of this work on the DRD's web site. Three elements of the project are now underway, but there does seem to have been some sort of hitch with the fourth project (Andersonstown/Stewartstown Road - Finaghy Road North to Upper Dunmurry Lane) which we had been expecting to begin in October 2014 but has slipped back to January 2015 in recent weeks. This part of the project has been out to tender for almost 11 months, but for some reason has not been awarded yet. Meanwhile, two further projects have now appeared on the DRD's web site - Upper Newtownards Road (Albertbridge Road to Sandown Road) and Divis Street/Falls Road (Millfield to Grosvenor Road), both of which are estimated to get underway in February 2015. Neither appears to be yet out to tender.

5 Sep 2014: Further to the previous update, it is now confirmed that the work to prepare the section of Falls Road, Grosvenor Road to Whiterock Road will commence on Monday 8 September, and last 12 months. The Rapid Transit team have also put 5 photos of recent works on the Newtownards Road on their web site here.

25 Aug 2014: The third construction tender, to prepare the section of Falls Road, Grosvenor Road to Whiterock Road was awarded to John McQuillan (Contracts) Ltd on 13 August. Construction is due to begin during September. At the works for the Dundonald Park-and-Ride site, work began over the past week on the Upper Newtownards Road itself with work to extend the right-turn lane approaching Dunlady Road commencing and ducting for the revised traffic signals being put in place.

16 Aug 2014: Work has been continuing in earnest on the Dundonald Park and Ride, which began three months ago. The terminal building is now rising recognisably (see picture below) and the earthworks for the car park are also well advanced. Work has taken place on modifying the access onto Dunlady Road from the site, which will eventually be a signalised junction. No significant work has yet begun on upgrading the nearby Upper Newtownards Road / Dunlady Road junction which also needs to be upgraded, but there is evidence of what might be service ducting being installed to carry new cabling. These works are due to be completed in December 2014. The works to date on the Upper Newtownards Road, Sandown Road to Knock Road are somewhat hard to interpret. There are a lot of cones about, and lane closures, and there appear to have been changes to various elements including the drains at the side of the road. But it's hard to yet see how it all fits together. These works are due to be completed in November 2014. The start date for works on the section Falls Road, Grosvenor Road to Whiterock Road has now been put back slightly to September 2014 (completion due July 2015), while the start date for the section Andersonstown/Stewartstown Road, Finaghy Road North to Upper Dunmurry Lane is now being given as October 2014 (completion due November 2015). These latter two have much longer timescales than the current works to the Upper Newtownards Road, suggesting that they involve more substantial work. Once again, keep an eye on the DRD web site for this scheme which is being kept impressively up-to-date with progress on these various elements.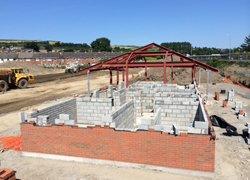 DRD photo of the terminal building Dundonald Park-and Ride taking shape on 25 July 2014. You can see more photos here. [DRD]

19 Jun 2014: The DRD has now re-launched their web site which now features details on each element of the scheme and progress on it. That page is likely to be kept more up-to-date than I can keep this page updated (!) so it would be a useful one to bookmark. It also features an informative section of Frequently Asked Questions. It confirms the timetable for the first four elements as below. This means that the second element of the scheme will kick off on the Upper Newtownards Road on Monday 23 June.

Dundonald Park and Ride - UNDERWAY - commenced 19 May 2014, due to be completed Dec 2014. Will initially be served by Metro buses, switching to Rapid Transit vehicles in 2017.
Upper Newtownards Road, Sandown Road to Knock Road (1km - see map) - localised widening, relocating drains and upgrading pedestrian crossings - to commence 23 June 2014, due to be completed November 2014.

Falls Road, Grosvenor Road to Whiterock Road (1.3km - see map) - localised widening, relocating drains and upgrading pedestrian crossings - to commence August 2014, due to be completed July 2015.
Andersonstown/Stewartstown Road, Finaghy Road North to Upper Dunmurry Lane (Michael Ferguson Roundabout) (1.9km - see map) - road widening to create a citybound bus lane (presumably there will be no outbound bus lane), and upgrade of traffic signals.

7 Jun 2014: Since the last update, the second construction contract has been awarded. This one is the works to adjust the layout along 1km of the Upper Newtownards Road from Sandown Road (Ballyhackamore) to Knock Road (the Outer Ring) to accommodate Rapid Transit. It was awarded to White Mountain Quarries Ltd on 21 May 2014. The estimated value of the contract is £1.43m. There is no immediate sign of work beginning at the time of writing. Meanwhile, at the Dundonald park-and-ride site, where work has been underway now for almost three weeks, a lot of site earthworks are very evident indicating good progress. There has been no work as yet on the associated improvements to the Upper Newtownards Road / Dunlady Road junction which are part of the scheme. The third contract that is in the pipeline has still to be awarded.

19 May 2014: Work finally began today on construction of the Dundonald park-and-ride site, the contract for which was awarded to Lagan Construction on 28 March. Since this is the first element of Belfast Rapid Transit to go to actual construction, today marks the official commencement of the construction phase of the project. For this reason, it was accompanied by a press release and media coverage. The press release notes that procurement for the 40 Rapid Transit buses is to begin, with £20m being allocated for the task. The Minister estimates that the whole process of procurement, construction and delivery of the vehicles will take three years, with the three routes (WWAY - from Stewartstown Road, EWAY from Dundonald and CITI from Titanic Quarter) to open for business in autumn 2017. The press release also notes that two further construction contracts are due "to start next month", ie June 2014. This presumably refers to the two sections that have been out to tender for some time (here and here) but have yet to be awarded. This incarnation of the BRT scheme was first announced in the 2002 Regional Transportation Strategy, so it is exciting that it has finally reached the point of construction. Listening to the radio and discussing it on Twitter suggests widespread public ignorance of even the existence of this scheme, let alone the route it will follow and impacts it will have. So hopefully the next three years will see a proactive public information campaign to raise awareness.

4 Apr 2014: The first tender for Belfast Rapid Transit - the construction of the Dundonald park-and-ride site - was awarded to Lagan Construction on 28 March 2014. As contractors tend to be keen to start work as soon as possible, I would expect to see work beginning imminently. The estimated value of the contract is £1.57m. It will primarily involve the construction of a 521 space car park with a terminal building, sited here in Dundonald. However, it will also require changes to the adjacent Dunlady Road, and alterations to the Dunlady Road/Upper Newtownards Road junction. This will include lengthening the right turn lane when coming from Newtownards as many more vehicles are anticipated to want to turn right here. As this is the first Belfast Rapid Transit contract, until the whole scheme is completed the park-and-ride facility will by served by conventional buses. The estimated duration of the works is 8 months, so we could expect to see it completed by early December 2014. Meanwhile, two other tenders are still to be awarded (see previous update below).

22 Jan 2014: These are exciting times for supporters of this scheme, as it edges ever closer to actual construction. In the previous update three months ago I noted that the first actual construction tender (for 3.8km of WWAY, about 40% of the bit in West Belfast) had been advertised. This tender has not yet been awarded, but the closing date was 28 November 2013 so surely it cannot be far off now. Since then, the second tender has also been advertised - the construction of the Dundonald Park-and-Ride which will form the terminus of EWAY, the bit in East Belfast. This tender was released in December 2013, earlier than expected, with a closing date of 3 February 2014. The third tender, for a 1km stretch of EWAY from Sandown Road to the Outer Ring, is due to be released imminently. At this rate of progress, and barring any difficulties with the tender process, I think it is likely that we will see work commencing on WWAY before the summer. The whole Rapid Transit system (consisting of EWAY, WWAY and the CITI link into Titanic Quarter) is due to be completed by 2017/18. Presumably some work will also have to take place between now and then to tweak the new city centre bus lanes to accommodate Rapid Transit. This has always been the intention, but it will require a bit more work - perhaps additional traffic signals, the construction of several rapid transit "halts", and certainly some meaningful enforcement of the bus lanes which are woefully enforced at present.

28 Oct 2013: Work seems to be rapidly gearing up towards a commencement of the Belfast Rapid Transit project. The first tender for construction of the road infrastructure was advertised on Wednesday last week. This contract covers two sections of WWAY (the bit in West Belfast): the 2km from Grosvenor Road to Whiterock Road; and the 1.8km from Finaghy Road North to Old Colin Road). Together these constitute roughly 40% of WWAY. It's not clear when work would begin, but the first tender closes on 28th November and I would expect that work would be likely to commence, therefore, during the first half of 2014. The project is scheduled to take 11 months, so would be completed by early 2015. They will probably initially operate as normal bus lanes while the rest of the project is completed.
Information on Roads Service's own web site suggests that this tender will be followed in January by two more: a 1km stretch of Upper Newtownards Road from Sandown Road to the Outer Ring, representing just over 10% of the EWAY route; and the Dundonald park-and-ride site. Combined, these three projects account for about 20% of the total length of Rapid Transit and represent a good start.

23 Sep 2013: While it now looks unlikely that any work on the ground will begin during 2013 as hoped last December (see below) work on this project is definitely progressing. The first two planning applications (that I am aware of) are now in - with thanks to Gary Potter over at Future Belfast for alerting me to these. The first one is for the terminal park-and-ride at Dundonald, which we now know is to be sited in the grounds of the former Lidl supermarket at Dunlady Road in Dundonald. It is to have 521 parking spaces. Click here to see a PDF of the traffic flow assessment, which includes a map of the proposed facility near the end. Both the WWAY (West Belfast) and EWAY (East Belfast) routes will terminate at such facilities, which are considered vital to their operation. Dunlady Road is a better place for a park-and-ride than the earlier proposal at Quarry Corner, since Robb's Road is a natural point of divergence – this will help traffic flows on the main Upper Newtownards Road which will have to reduced from two to one lanes from this location into the city centre. This is also likely to the the most unpopular part of the plan. The plan for the park-and-ride involves lengthening the right turn lane from the main A20 citybound into Dunaldy Road, and also adding new traffic lights at the Dunlady Road/park-and-ride junction. The second one is for localised road widening on Divis Street to allow for the provision of dedicated bus lanes in both directions at this point. Although more modest in scale than the first planning application, this one is also vital as the bus lane must be continuous, as far as possible, to provide the journey times needed to make it attractive to travellers. At this point in time it seems likely that at least some work will begin on the ground during 2014, with all three pilot routes (WWAY, EWAY and CITI [Titanic Quarter] due to be operational by 2017/18).

12 Dec 2012: In a talk at the PLACE Architecture and Built Environment Centre today, Ciarán de Búrca (the head of the project) stated that work to implement the necessary infrastructure for Rapid Transit would begin on the ground at the end of 2013, ie in one year, and that the system would be finished and operating in 2017. He also confirmed all three routes would be opening simulatneously. He also said that the dedicated Rapid Transit lanes would not run straight through the Outer Ring / Upper Newtownards Road junction due to its sheer importance to strategic traffic. Finally, he confirmed that cyclists would not be banned from the bus lanes once the Rapid Transist system was operating.

1 Dec 2012: Further to the last update, where I commented that the location of the proposed park-and-ride site in Dundonald was not specified, I have heard a rumour that the DRD has made an offer for a piece of land in Dundonald for a 400 space site. I don't know what site this actually is, but the reference to 400 spaces would be consistent with the size of this vacant site. There is also some vacant land at the site of the old Rolls-Royce factory here.

23 Nov 2012: The DRD yesterday published a summary version of their Outline Business Case. You can access it, along with an updated map of the proposed routes, from here and the press release here. There is a lot to read here, but as this web site focuses on the impact on the road network, I'm mostly restricting my comments here to that aspect of the plan. Of note are the following points:
The decision made a year ago to route WWAY along Grosvenor Road, rather than Falls Road has been reversed, due to public pressure expressed in the last public consultation. WWAY will now run along Falls Road, as can be seen from the map linked to above. I've updated the text at the top of this page with the most recent route corridor information.

The remainder of the routes remain largely unchanged from what was previously publicised.
There will be a park and ride on WWAY "near Dairy Farm and/or McKinstry Road Roundabout".
There will be a park and ride on EWAY "in Dundonald". Although documents last year indicated this would be at Quarry Corner, this is no longer being specifically mentioned. The new map is shows it at Ballybeen Estate. This may just be indicative, however.
The scheme has a calculated cost-benefit ratio of 3.4, which would be considered good value for money, ie over the assessment period (usually 60 years) will will bring 3.4 times more benefit than it will cost to build. It is not anticipated that revenue will be sufficient to cover the investment costs within the assessment period.

The total cost is estimated to be £98.5m, assuming it opens in 2017/18. This is actually less than the £150m estimated in 2008. Of this, £12.5m is already allocated up to 2015. Proceeding with the plan to be open in 2017/18, therefore, will require an additional £86m to be allocated between 2015 and 2017/18. Yesterday's announcement that the scheme has secured Executive approval suggests this is likely to be forthcoming.
BRT is predicted to increase public transport patronage on the route corridors by between 43% and 75%, and reduce public transport journey times by 30%.
BRT is predicted to reduce general traffic levels on the route corridors by 20%, of which half is modal shift from car to BRT and 10% by cars switching to other parallel routes. Journey times for general traffic are predicted to increase by 8% generally, but up to 40% in certain locations.
On-street parking will be reduced in areas where BRT is built.
Each of the park-and-ride centres will have space for 500 cars plus secure cycle facilities.

30 Jul 2012: According to the minutes of a DRD Board meeting held on 2nd July, there has been a discussion between Geoff Allister, the Head of Roads Service, and Ciarán de Búrca, the Head of the Rapid Transit Division. The discussion seems to have focused on the issue of "traffic disruption/increase in car journey times forecasts". This is because the scheme will see key arterial routes reduced from two to one lane each way, most notably the A20 Upper Newtownards Road which is not simply a commuter route, but also part of the Strategic Road Network, linking the Ards Peninsula to the rest of Northern Ireland. It has been agreed that there will be a re-assessment of the current status of the A24 Saintfield Road. This is presumably because the A24 is also a strategic road, and a similar reduction in capacity was implemented there when the bus lane was opened a few years ago. The disruption to strategic traffic on the A20 will be one of the most sensitive aspects of the Outline Business Case.

1 May 2012: The DRD have published their Consultation Report into last Autumn's public consultation (along with an Equality Impact Assessment) on 24th April. The main findings of the consultation are:

62% of people thought that the most appropriate routes had been considered. The main objection was to the choice of Grosvenor Road over Divis Street for WWAY. There seems to be a broad consensus that the Comber Greenway should not be used for EWAY.

88% felt that the proposed system would be a "high quality public transport system".
Quite a few people felt the system ought to be expanded to cover other parts of Belfast.
Concerns about the level of fares and impact on 'regular' buses.
The importance of good park-and-ride facilities.
The report concludes by noting that an Outline Business Case will be published late in 2012 that will consider the emerging design more specifically, especially the impact on specific junctions and property along the route. There will be another round of consultation after that. Although there is a question mark over when funding will be available, it does seem as if development of the scheme is progressing well.

Personal comment: While supportive of the scheme in principle, I did make a submission to the consultation outlining my concerns about the 'pinch point' that will be created citybound at Quarry Corner (similar to that at Greenisland).

15 Jan 2012: I have just realised that I did not write an update for the official announcement that I mentioned in the previous update - apologies. The Route Options for the pilot phase of Belfast Rapid Transit were announced on 12 October, and the public consultation ran from then until 6 January. The report is accessible here. Although the consultation was about "route options", in practice the report goes on to reject all but one option for each of the three routes and therefore would be more correctly described as a "preferred route" announcement. The preferred routes are as follows (the route in Belfast City Centre itself is not yet finalised):

CITI - City Centre > Queen's Quay > Queen's Road
EWAY - City Centre > Albertbridge Road > Upper Newtownards Road to Quarry Corner park-and-ride

WWAY - City Centre > Grosvenor Road > Falls Road > Andersonstown Road > Stewartstown Road to McKinstry Road roundabout park-and-ride

These are bold proposals, in that they will require significant reallocation of roads space from general use to public transport. The most controversial element (in my view) is the decision to route EWAY along the stretch of Upper Newtownards Road from the Outer Ring to Quarry Corner, as this is part of the strategic road network, unlike the remainder of the system. This decision has been made due to significant public opposition to the use of the Greenway route. Advocates of Rapid Transit have raised concerns that DRD may be tempted to save money by downgrading the quality of the vehicles used on the system, and so we hope this does not happen. Meanwhile, measures to prepare the city centre for rapid transit are well underway, with Phase 2 of the enabling measures already underway (and Rapid Transit Enabling Measures planned). The DRD is still being vague on when exactly construction work on the Rapid Transit system itself will commence. It is currently planned to be in operation by 2017 (see update 12 Sep 2011). There is no update on cost, which was last estimated at £150m four years ago.

8 Oct 2011: Information leaked by the BBC yesterday indicates that the plan to use the Comber Greenway has now been abandoned, with some kind of announcement expected in the coming week to coincide with the commencement of a public consultation on 12 October. The reason given is "cost", although there has been significant public opposition to the proposal. Watch this space.

12 Sep 2011: The new "Transport" Minister today offered some more information on where we are with this scheme during the first session of the Stormont Assembly of the autumn. He noted that there would be a three month consultation exercise, beginning next month (October 2011). An "outline business case" will then be completed "in 2012" at which point the planners will seek permission from the Executive to proceed. He confirmed that there are no plans to commence major construction work before 2015, but did comment that the budget for the period to 2014-15 does include money "for the planning and commencement of initial implementation measures", presumably the detailed design, etc, and possibly some minor works such as adjustments to road junctions that will be affected. Finally, he said that "the target date for the operation of the system is 2017" but went on to say that "that is very much an aspiration and is subject to available finance". So I don't think we can say anything firm about if or when this scheme will be implemented.

14 May 2011: My scepticism about the timescale for this project (see previous update) seems to have been well founded. Speaking at the Annual Dinner of the Chartered Institution of Highway Enginners Northern Ireland, the Permanent Secretary of the Department for Regional Development Malcolm McKibbin said "funding to begin to implement [the Rapid Transit System] will not be available until at least 2015" (quoted in Plant & Civil Engineer, May 2011). So this means that we are probably at least four years, and possibly more, away from work actually beginning on the ground.
7 Mar 2011: The Minister answered a question on the status of this scheme in the Assembly three weeks ago. He did not give any dates, but did say: "this project is identified in the Programme for Government as a key project for Belfast, and we want to keep it live and on the books. Although I would prefer that we were much further ahead with the capital commitment to rapid transit, we will continue with the preparatory work." This does not sound like the description of a project that is likely to start on the ground next year, as was being said last summer. It sounds more like a project that is on a longer finger, awaiting funding or more progress on design work. We shall have to wait for more information to see where we are with this scheme.
14 Jan 2011: The DRD published their draft budget for 2011-15 yesterday. Despite savage delays to many schemes, this scheme appears to have survived. The budget states that "The spending proposals would also allow the Department to fund the development of a bus based Rapid Transit system on a pilot network of three routes connecting East Belfast, West Belfast and Titanic Quarter with and through the City Centre." It's not clear, however, if there will be delays. Currently work on the first scheme is scheduled for the end of 2012 (see previous update).
15 July 2010: Roads Service have released a public information leaflet about the scheme. It doesn't say much that we don't already know, but it does say that commencement of the first route is now expected "during 2011". However, this is contradicted by the DRD's own End of Year Report issued a few days later. In relation to the scheme it says "We have been advised not to undertake public consultation on the preferred routes whilst this process is ongoing. This has resulted in a delay in taking forward the project by 9-12 months. The three routes set out in the Strategic Outline Case will now be taken forward in a single Outline Business Case. This includes further route options which will require full public consultation. The revised target date to commence work on site for the CITI-route is end of 2012." CITI is the route connecting the City Airport and Titanic Quarter, and is likely to be the first one built.
28 Mar 2010: In the Assembly earlier this month, the Minister said that the public consultation into the details of the three routes of the proposed rapid transit system have been deferred until "early 2011". This is apparently due to the existing public consultation on the legislation that will allow rapid transit to operate. He said "there was a possibility of confusion arising if the public were also being consulted on the details of route alignment options during the enabling legislation process." This has not prevented debate about the route - the most controversial part is the plan to route the rapid transit system along the Greenway (a former railway line and current cycle/foot way) through east Belfast. Such is the strength of feeling locally, that it has spawned a campaign group - Greenway to Stay. The DRD has already spent considerable sums on the Greenway proposal, and has even bought a site related to the scheme, but it seems if a route along the Upper Newtownards Road will also have to be considered. At the project launch in November 2008 it was stated that work on the rapid transit system would begin "in 2011". With a consultation into routes not planned to begin until early 2011, this timescale seems increasingly unlikely to be achieved.