Total Length: 2.3km (1.4 miles)
Location: From M2 junction 2 (Greencastle) to A2 at Hazelbank
In 1964 the Northern Ireland government announced an ambitious scheme to construct a motorway, the M5, from Belfast to Larne. It would start at the M2 junction 2 (Greencastle) and run north-east to Whiteabbey, then turn inland by ploughing through Jordanstown and follow the route of the B90 to Carrickfergus. A spur, the M6, would have left at Whiteabbey and headed to Larne. In the 1969 Transportation Plan, the first portion of the M5 to Hazelbank was scheduled for construction before 1986. Of course, when Northern Ireland's motorway schemes were cancelled in 1975 the M5 was one of the casualties.
However, there is at least a partial happy ending for the M5 since the government decided not to cancel the section from the M2 to Hazelbank. This would prevent all Carrickfergus traffic having to come off the M2 at the awkward Greencastle interchange and trundle along the Shore Road through Whitehouse. A 4-lane single-carriageway would be constructed from Hazelbank to Carrickfergus, mostly by widening the Shore Road. However, one part of the Shore Road has yet to be widened as I write in 2005. See future schemes.

The M5 was partly constructed in Belfast Lough by building a causeway in front of Whitehouse strand with pipes to keep the water flowing. This never really worked, and Whitehouse Lagoon, as it is now called, has lost its sandy beach and is instead an area of stagnant mud flats and algae. The last portion climbs sharply up to Macedon Point, which had its southern slope demolished to join the A2 at a roundabout at Hazelbank. (This point is also known as Rushpark after a nearby housing estate.)
The M5 has a free-flow junction with the M2, but access is only provided to the south. So it is not possible to go directly M5 south -> M2 west or M2 east - > M5.
Other Information
Junction map on CBRD.
Construction Dates
| | |
| --- | --- |
| M2 junction 2 to Hazelbank | 12 Sep 1980 |
Photos
The M2 / M5 diverge seen here looking north at Greencastle with the M2 to the left and M5 to the right. [Photo by Wesley Johnston]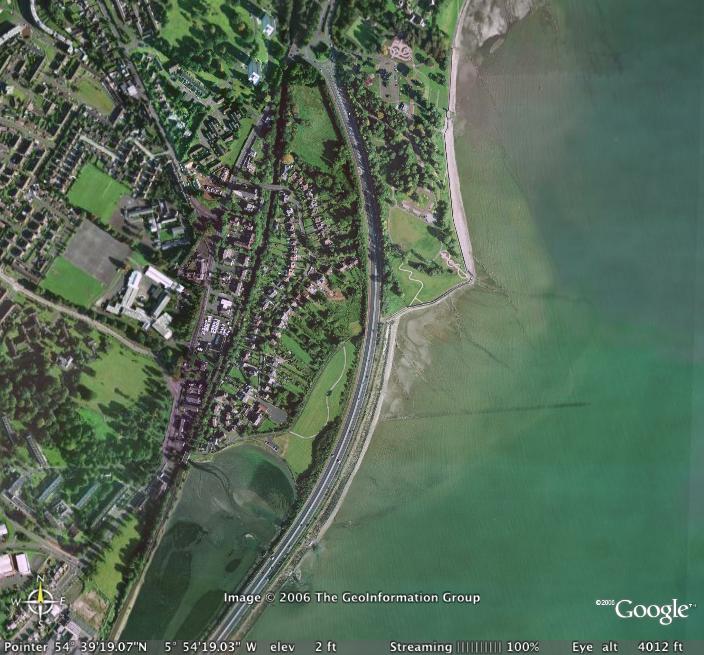 The M5 running past Whitehouse lagoon (bottom left) towards Hazelbank at the top. [Image from Google Earth].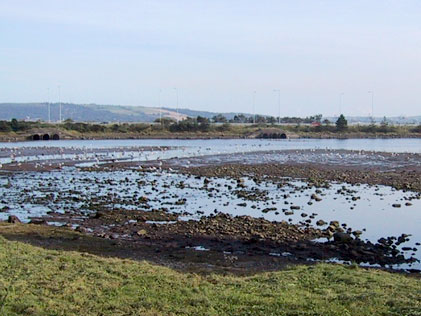 Looking across Whitehouse Lagoon towards the causeway that carries the M5. [Photo by Wesley Johnston].
The Hazelbank roundabout where the M5 (visible ahead) terminates. [Photo by Wesley Johnston].