Construction scheme (completed)

Where

Completion of the northern access to Lisburn from the east, taking north Lisburn traffic off the congested M1 motorway.

Total Length

2.6km / 1.6 miles

Dates

Begun 11 Oct 2004

Originally due to open January 2006

Opened 6 March 2006

Cost

£6 million (developer funded)

See below.
Lisburn gained 'City' status in 2000 for many reasons, one of which was that fact that it has grown so much. Yet despite being so close to its big brother Belfast, it has its own identity - and its own chronic traffic. Both junctions for Lisburn on the M1 motorway are located to the south of the city centre, so that all traffic from the burgeoning northern suburbs must either go through the centre or use the windy country road through Derriaghy village.

The North Lisburn Feeder Road will run as an extension to Wilmar Road, which currently ends at Belsize Road, and go west, roughly following the line of Derriaghy Road to end at a new roundabout at the north end of Prince William Road. The existing Pond Park Road will be blocked up north of the new road - presumably access will be onto the new roundabout.
The North Lisburn Feeder Road was in the Lisburn Area Plan 2001, adopted in the mid 1990s and construction finally commenced in 2004. It will provide fast direct access from the 4-lane single-carriageway that goes from the Black's Road junction of the M1 motorway through west Belfast. When completed, it will take a large amount of Belfast-bound traffic off the M1 junctions in south Lisburn. This will not only ease congestion in Lisburn, but since the point when these vehicles will eventually join the M1 has recently been upgraded to 3 lanes, congestion will not be so bad here.
Update: As of 27 Jan 2006, part of the scheme at the Prince William Road end was open, but it looks unlikely that the whole scheme will be open in January. We are realistically looking at February or March.
Sure enough the road opened to the public, without ceremony, in early March 2006.
Photos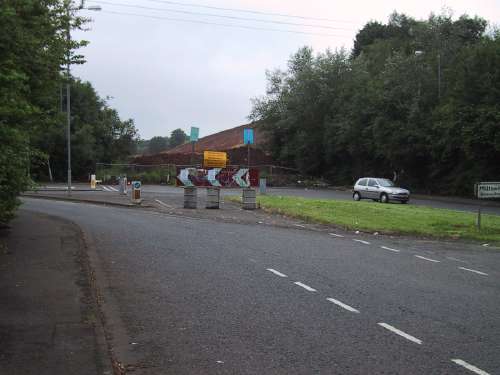 These pictures were taken in July 2005, during construction. The road will start here at the junction of Belsize Road (on the left here) and Wilmar Road. [Photo by Wesley Johnston]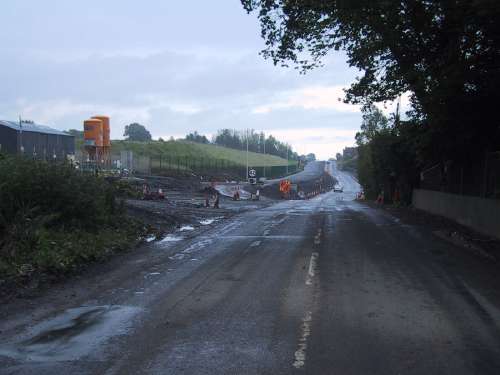 The view looking east along Derriaghy Road from Pond Park Road in July 2005. The new feeder road is being built basically by widening the road here. [Photo by Wesley Johnston]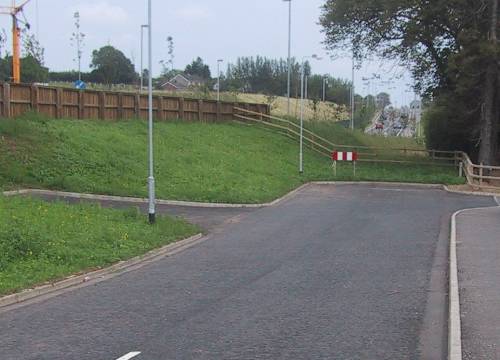 Exactly the same view as above, seen in July 2006. The new feeder road runs behind the fence on the left and has here adopted the name "Derriaghy Road" from the road it replaces. [Photo by Wesley Johnston]
The view west from Pond Park Road in July 2005. The new roundabout with Prince William Road is visible in the distance. [Photo by Wesley Johnston]
Exactly the same view as previously, but this time in July 2005. Pond Park Road now terminates here, with the northern portion accessible via link road from the new roundabout ahead. [Photo by Wesley Johnston]